Know what is 1X2 in Football Betting & Predict the Odds to Win Loads. Bet on a Home win, Away win, or Draw of a Soccer match at W88 & Grab free credit of ₹250.
1X2 Football Betting   W88 Sportsbook  W88 Bonus ₹15,000
Introduction to the World of Football Betting Online
Football is one of the most loved sports in India because of how fun it is to watch. It is a sport that can evoke feelings of pride as well as sadness when the team you root for wins or loses. However, to spice things up this time, you should definitely try football betting online by first learning what is 1×2 in soccer betting.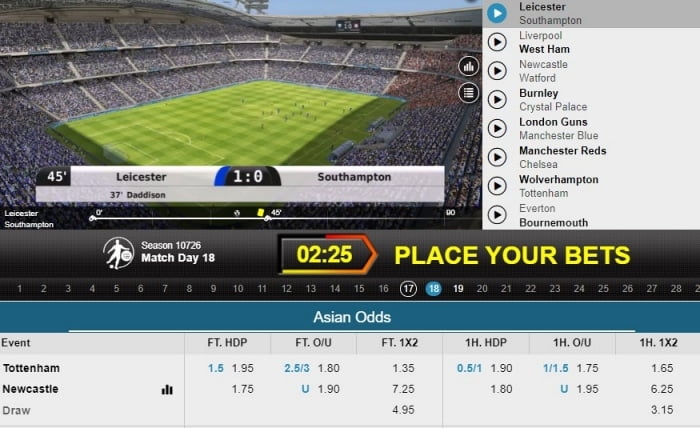 Football betting or sports betting online is something that has gained rapid popularity thanks to many people actually enjoying the thrill of predicting match outcomes accurately. How do they do that? Well, it is all thanks to online betting sites like W88 that offer accurate odds and many betting options with extravagant payouts to choose from. One such betting option is the 1×2 Betting Option in Football.
What is 1X2 Football Betting?
Before we get to how you can place the 1×2 bet on football matches online, let us first understand what is 1×2 in soccer betting by looking at the meaning of the 1×2 Football Betting Option. Understanding what this betting option means is very simple and placing bets on them is easier. The 1×2 betting options usually come with great payouts and interestingly, the 1×2 betting option is something that we think of and have been thinking of by placing bets on them unknowingly for a long time.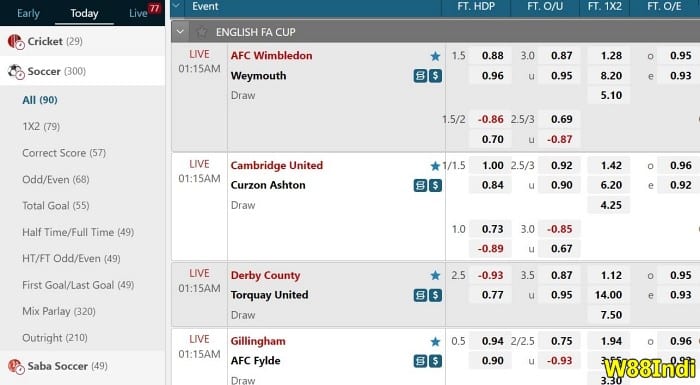 1 refers to the bets made on the Home team indicating that Team 1 will win the match.
X refers to a Draw Bet indicating that the match will end in a Draw
2 refers to the bets made on the Away team indicating that Team 2 will win the match.
1×2 in Football Betting stands for the bets made on the Home team, Draw, or Away team to predict the outcome of the match. Thus, it is the most simple betting option you can find which appeals to both pros and beginners in the football betting world. However, 1×2 bets can either be for Full Time or Half Time, the latter determining who scored more goals within a certain amount of given time.
Play
1×2 football Betting

in 3 Simple Steps at W88

You now know what is 1×2 in soccer betting, so let us get to the main part of the article and that is how you can place a 1×2 bet in any of the W88 sportsbooks. As you will see, doing so would give you many offers and great payouts you will find in the sports betting world online.
Step 1: Register an Account at W88 and Pick a Sportsbook
The first thing you must do to place bets in the W88 sportsbook is to create an account in the W88 register by filling out the W88 form by clicking on 'Join'.
When you are filling out this form, you must make sure you enter accurate details including a unique username and strong password.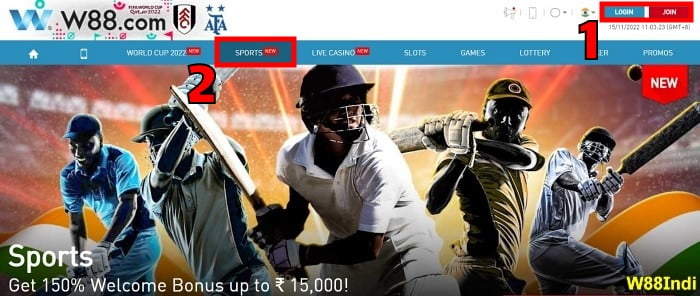 Once you have completed creating an account, as well as verifying your account details, you must log in successfully to your new W88 account.
Then click on 'Sports' from the menu bar above on the W88 India home page. This should take you to another page where you will be introduced to the main 3 W88 Sportsbooks – a-Sports, e-Sports, and Fantasy Sports.

a-Sports offers you all Asian match updates while e-Sports gives you updates on all ongoing European matches. As for Fantasy Sports, you can bet on virtual sports using this.
All sportsbooks at W88 offer quality services. Here, we have decided to go for the e-Sports Sportsbook by clicking on it.
So, to select the sportsbook you want to go with click on your preferred sportsbook and move ahead to the next step.
Step 2: Filter and Select the Match You Want to Bet On
When you begin step 2, you should find yourself at an amazing sportsbook online regardless of which one you picked.
Here, you will find many sports you can filter and choose to bet on as well as different betting options.
Not only this but you can also filter them out based on different dates as W88 sports book always presents odds on live as well as upcoming sports matches.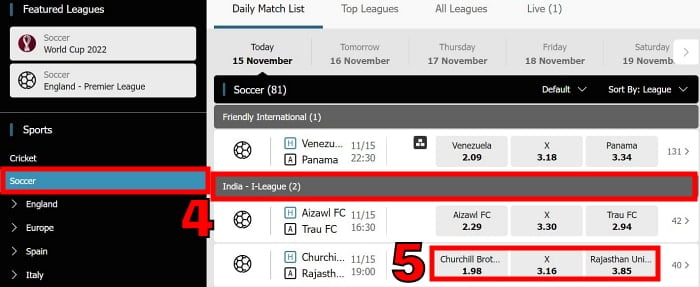 So since we want to bet on a soccer or football match we will first click on 'Soccer'.
This will show us all the different ongoing as well as upcoming soccer matches as well as bets and their betting odds.
To select a match you much click on your preferred football match and move on to the last step of placing the 1×2 bet on football.
Here, we decided to bet on the India I-League match between Churchill and Rajasthan United F.C.
Step 3: Play 1×2 Football Betting Efficiently at W88
In step 3, you will finally learn how to place bets on the coolest sportsbook you will ever find in the betting world.
To place bets the first thing you must do is find the 1×2 betting option from all the different bets available in W88 Football Sportsbook.
When you find the betting option, you must click on the odds you want to bet on. A pro betting tip is to always bet on the highest odds available from the three options.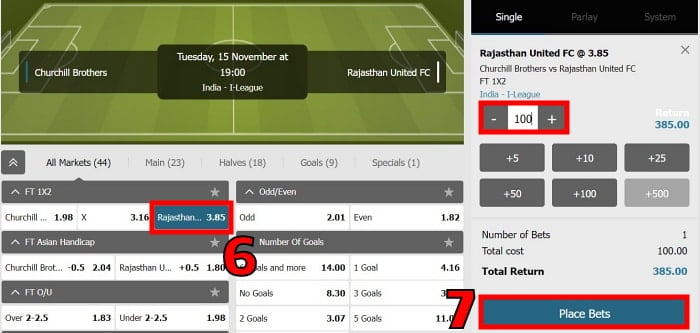 When you click on the odds, a bet slip pop-up box will open up on the right side of your screen.
Here, you must enter the minimum betting rate and look for the returns. Bets placed on higher odds give more returns.
Here, we have staked ₹100 on the odds of 3.85 for the Away team RajasthanUnited F.C. team.
Once done, you must click on 'Place Bets' to complete the 1×2 Football Betting option.
With this, you will have successfully placed a 1×2 bet on a football match, and now all that is left to do is sit back and watch the match to see the outcome.
What are the Odds of Winning the 1X2 Bets in Football?
Placing bets and sitting back to watch the match sounds fun, but only true gamblers would know the thrill and excitement of placing bets on a match which makes them sit at the edge of their chairs. And since the W88 Football 1×2 betting option is placed to predict the outcome of the entire match, waiting to know the results requires you to watch the entire match with anticipation. After all most bets are placed and won based on how lucky the person is for the day.
However, there are some ways in which you can defy luck and use rational and analytic betting to know whether you will win a match or lose a match.
One way to do this is by using the betting odds available. Betting odds in Football, or any sports match, tells you about the chances of a particular bet winning.
Betting Stake x Betting Odds = Total Payout
With the formula to calculate payout, you can know how much you will win when you place a betting stake on a particular team.
The reason we urge you to always choose higher odds is so that you can place accurate bets as well as earn more returns.
If you see, the amount of betting stake you place matters as well because the more you stake, the more you can get in return if your bet wins.
However, since these odds usually change based on the real-life game, you will also need to analyze the statistics of previous matches of football teams to place even more precise bets. In short, the odds of winning a particular match depend on the bettings odds given by your site, as well as the team's previous game stats, which you must analyse to place more precise bets online.
Let's Place a Real 1X2 Bet and Predict the Outcomes of 3 Scenarios
In order to test what we have said above, let us now look at the 3 betting scenarios that can take place in a 1×2 Bet to know how to win football betting with precision, by placing a real money bet on all three options to analyze the outcomes and see which option is better and which ones should be avoided.
First, let us pick a match to bet on from W88 a-Sports Sportsbook. Here, we have selected the Derby County vs Torquay United match from the English FA cup event to place a bet on as the odds of this match looks promising.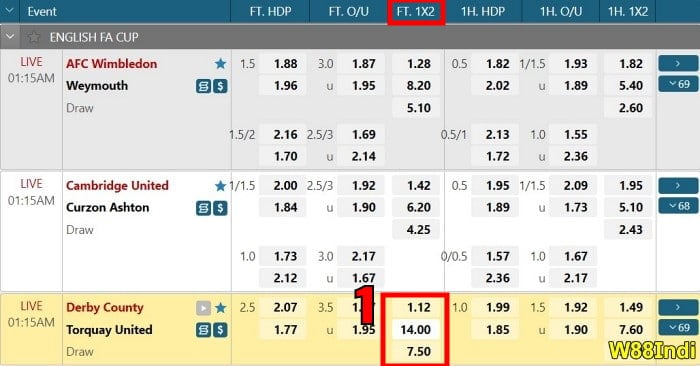 Click on the match and this will take you to the match's domain where you can find many betting options and their odds.
From these, pick the highest odds from under the 1×2 betting option and then place your bets in the bet slip that opens.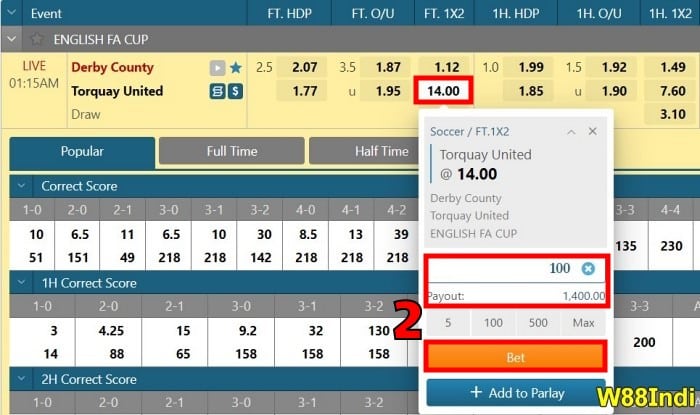 As you can see, the betting slip shows you how much you can get in return. So, let us now take a look at the table below to get a breakdown of the betting stake, odds, and payouts in the 1X2 betting option.
| | | |
| --- | --- | --- |
| Home Team (1) Derby County | Draw (X) | Away Team (2) Torquay United |
| | | |
| Betting Stake: ₹100 | Betting Stake: ₹100 | Betting Stake: ₹100 |
| Betting Odds: 1.12 | Betting Odds: 7.40 | Betting Odds: 14.00 |
| If Won: ₹112  Returns | If Won: ₹740 Returns | If Won: ₹1,400 Returns |
| If Lost: Betting Stake is Lost | If Lost: Betting Stake is Lost | If Lost: Betting Stake is Lost |
Home Team 1: Here, with a betting stake of ₹100 and odds of 1.12, bets placed on the home team will get returns of ₹112 if won, and if lost then they will lose the betting stake which is ₹100.
Draw X: Here, if you bet ₹100 on a tie between both teams for the odds of 7.40, you will get ₹740 in return if your prediction is accurate. If not, you will lose ₹100.
Away Team 2: Lastly, if you bet on the away team for ₹100 with the odds of 14.0, then you will receive ₹1400 in return and if you lose the bet you will lose the betting stake of ₹100.
As you can clearly see how soccer betting odds matter the most when it comes to betting online and why you should always go for the highest odds to place bets on in the 1×2 betting option. So coming back to answer the main question of what the odds of winning the 1×2 bets are, well, it highly depends on the betting odds for a particular team. If you want to win more, you should go for the highest odds in the 1X2 betting option. And if you want to win even more, check out our 1X2 Football Betting Tips to learn some pro tips to enhance your betting skills.
Should You Go for the 1X2 Bets? Pros and Cons of the 1X2 Betting Option
Lastly, and most importantly, the 1X2 betting option in football is fun to bet on, there are many other equally fun betting options to choose from, so the question arises of whether or not you should go for the 1X2 betting option. The answer to this depends on you because, in the end, sports betting online is purely made for entertainment purposes. Winning from it is just a benefit that comes along with it. But to help you decide, here are some pros and cons of the 1X2 betting option in football.
Pros:
Easy to understand and bet: The 1×2 betting option is one of the easiest betting options to not only understand but also bet on. In fact, most sports betting newbies tend to go for this option because as mentioned above, we all think about this option and make mental bets on which team will win or whether it will be a draw.
Easy to predict: Just like demonstrated above, betting on football matches with the 1X2 bet is very easy to predict because of the accurate odds offered by W88. Not only this but just analyzing the stats of the team's previous match makes your bets more accurate.
Odds are updated days before the match: Using sites like W88 would give you a chance to place early bets because top-quality sites like these often update the odds of 1X2 bets before the match day.
Cons:
Your favourite team may have fewer odds of winning: Most sports bettors bet online join sports betting online to bet on their favourite teams. However, since with the 1X2 bets you get pretty accurate odds of winning, their favourite teams may not have favourable odds and thus this could create conflict with which team to place a bet on.
Losing is as easy as Winning the 1×2 Bet: Lastly, winning is easy with the 1X2 bets and so is losing. Although betting with odds prevents this from happening, if you lose the bet because the odds turned to favour the other team, then you can lose your entire betting stake in one go.
In Conclusion
This is all what is 1×2 in football betting about and now we urge you to go ahead and create your W88 account today so that you can place bets on the upcoming matches! Using W88 would also give you a free welcome bonus of ₹15,000 on sportsbooks that you can use to place bets. Besides this, you can also get a free credit of ₹250 when you verify your account. So go ahead right now and turn this easy tutorial into actions by placing a 1X2 Bet today!