W88 Football: Learn how to bet on football games online with minimum bets of ₹100 & grab a 150% welcome bonus up to ₹15,000 with promo code INR150ESB in India.
W88 Football  W88 Free ₹15,000  W88 Sportsbook
Introduction to Football Betting
Football is one of the sports that is most enjoyed by many people. Thus, it is a fun sport to watch with friends and family. In today's time, we can watch sports online, and taking things to another level, we can even make bets online. So, making bets on your favourite team while enjoying the match is even more fun as you get to experience the thrill as a part of the game on the sidelines.

Football Betting in India has gained popularity because of many upcoming and growing online betting sites because it is an easy and fun way to double up your cash. All you must do is make bets from the betting options and sit back to enjoy the game.
Here, at W88indi, you get not only an easy-to-use interface to make bets but also some of the hottest deals in the sports betting world. So, as a beginner, you will get most of the information you need about Football betting in this article which will help you up your betting skills.
Popular Online Football Betting Options and Odds
Before we look into the steps to make football bets online at W88indi, let us look into the most popular betting options available in the football betting world as well as their odds. Understanding your options and the chances of winning is very important as it can help you decide where to place your money and keep winning.
That being said, understanding the betting options and odds in football is not very difficult. There are mainly 3 important and most popular bets in football that you must grasp thoroughly. They are:
Handicap Betting Option: The Handicap betting option is made to even out the betting game between a well-to-do team and a not-so-well-to-do team. For instance, if a team who has previously made it to the finals goes against a team who constantly has been losing in the first round, then a handicap or an advantage is given to the latter team. This handicap could be certain conditions that the team must fulfil for the bettor to win the bet.
Over/Under Betting Option: One of the most popular bets is the Over/Under, or OU, bet. Here, bets are made to determine whether the overall score is over/more than a given number or under/less than the given number. This number is found using statistics of the overall score of both teams.
1X2 Betting Option: This betting option is considered to be the most popular betting option as most bettors go for it. This bet depends on the overall result of the game. Here, 1 means the home team, X means a tie, and 2 means the away team. So, when making bets using 1X2, you can bet on which team will win the match or whether it'll be a tie.
Additional Betting Options to choose from:
Although the above-mentioned bets are the most common ones, in W88 a-Sports betting there are other bets you can make as well. These include:
Odd or Even Bet: This bet depends upon the sum of the score of both teams after a match. If the overall sum is an odd number, then the bets placed on Odd wins. If it is an even number then the bets placed on Even wins.
Half Time or Full-Time Bet: As the name suggests, this bet can be made in two parts. So, you can choose to bet on the outcome of the half-time and full-time, individually or as a combination.
Total Bets: This bet can go very right or very wrong. Here, you have to make a bet on the overall, or as the name suggests, the total score of a single team. If you are able to find the average number of goals scored by the said them over time, then you may be able to make accurate predictions.
Parley Bets: Parley Bets are special bets that pros tend to make. These bets refer to mixed bets made on more than one match. As a rookie, you should avoid Parley bets.
Football Betting at W88indi – A 3-Step Guide
Now, let us get to the main part of the article, which is how to make bets on football using W88indi. W88indi is home to some of the greatest offers when it comes to online sports betting. Registering an account at W88indi is very beneficial in the betting world as its easy-to-use interface is always appreciated, especially by beginners. Let us get to the steps of how you can join in on the fun of football betting.
Step #1: Join W88 and visit the Sports domain
The first step you need to take is to sign up at W88indi. To do this, you must visit W88 India's official site and click on "Join".
Then you will have to add in all your details accurately with a unique username and strong password. Besides this, you must complete the verification process and deposit money in your account to have a complete W88 new account.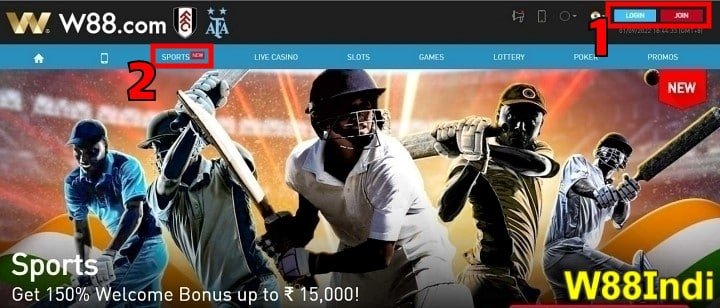 Once that is done, you need to stay logged in and visit the sports section.
To do this, you must click on "Sports" available on the ribbon at the top of the page. This will take you to W88indi's sports domain.

When you enter here, you will see that you can bet on a-Sports, e-Sports, and Fantasy Sports. The first two are meant for Live Betting where a-Sports involve all Asian sports and e-Sports involve all European Sports. Regardless of which domain you choose, the below steps apply to both.
Note: Before you start betting on sports, be sure to check out W88 promos available in their promotion section. We suggest this because you definitely do not want to miss out on the 150% up to ₹15,000 bonus on W88 Sportsbook for a minimum deposit of ₹500!
Step #2: Select your preferred football match
To make bets on any Live Asian Sports, you must first click on "a-Sports", this will take you to the respective domain. Here, you will be able to find a list of all the live matches taking place, not only in football but also in other sports.

Since you want to bet on football, you must click on "Soccer". This will change the list to all the available live football matches across the globe.
You can then find your preferred football match by scrolling through the page.
#3: Make your bets and sit back
Once you have found the match you want to bet on, you must then click on the arrow as shown in the picture above, to watch the live game while placing your bets.
Note: Before you place your bets, it is important that you look at the status of the match. You must also look at the score and the players currently on the field as well as each team's formation.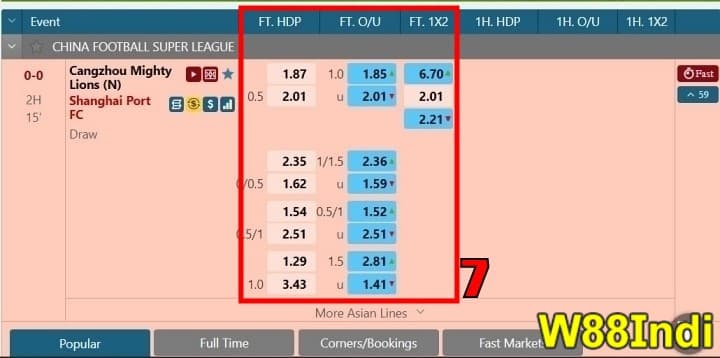 You can now make your bets from any of the options given and by entering the amount. Remember, from all the betting options it is wise to make the bets that will give you more chances of winning.
After clicking on "Bet", you can sit back and enjoy the match. If you wish to make more bets when the time comes, you can do so using the same methods.
The results will be revealed to you depending on your bet and the odds of the game.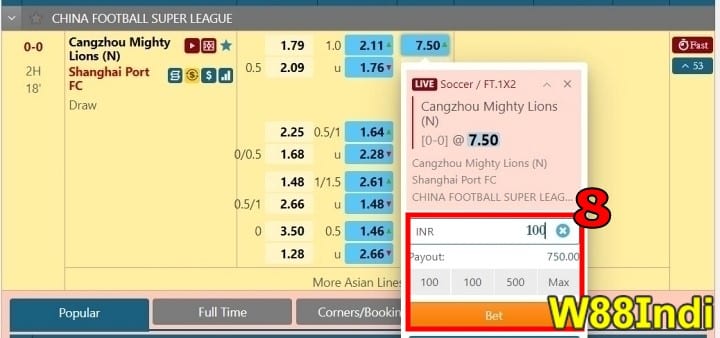 Since in the picture above we placed a 1×2 bet, the results can be out in 3 possible ways:
Case 1: You won the bet –
Here, we have placed a ₹100 bet on Cangzhou Mighty Lions with odds of 7.50.
So, 100 x 7.50 = 750. Thus, you will win ₹750.
Case 2: You lost the bet –
If you lose the bet, you will lose the amount you wagered, which is ₹100.
In case of a Tie, or Draw, you will get the amount you bet with back, which is ₹100.
3 Bonus Tips for Football betting
Now that you know how to make bets online using our W88indi easy guide, you can go ahead and enjoy this aspect of the betting world. However, if you want to boost your winning then you must pay attention to these football betting tips:
Choose a reliable site: When joining any betting platform, it is important to do some research about the platform you are going for. Doing this would not only let you find a good platform but you will also learn about the risks and cautions when it comes to online betting. Finding a reliable site is the most crucial aspect of online betting. This is because you need to find a site that is trustworthy enough to deposit money. Besides this, you must find a site that helps you win more than you give by checking the minimum betting rates and more.
Complete Account Verification: It is important that, immediately after making a new account, you should complete your account verification. This means that you will have to submit the relevant documents necessary to verify the details you entered when making your account. Doing this would help keep any sort of fraudulent activities away from you. Not only this but it is safe and wiser to complete your account verification to keep your details, as well as money, safe.
Utilize Sports Promotions: Lastly, we advise you to make full use of all the benefits you can claim at the betting site. So, it is very valuable if you keep visiting the promotion section of the site often so that you do not miss any new deals. This will give you an edge on doubling your money. The best W88 promo is the 150% welcome bonus up to ₹15,000, as it is the most appealing one in their sportsbook.
Conclusion
So, this was our "How to Bet on Football for Beginners" guide which also lets you in on the main betting options as well as 3 additional tips to boost your betting skills as a rookie. By joining W88, you will definitely enjoy the betting thrill. Besides this, you can also play additional games and more on the site! Using the promo codes available for new joiners at W88, you can earn extra by just completing the terms and conditions. Now, it is time for you to carry out the aforementioned steps and make your first football bet at W88. Happy Betting!