Making your W88 deposit for the first time? Pick the best W88 deposit methods like UPI & grab 1st deposit bonus up to ₹15k. The minimum deposit is ₹500 only!
W88 Deposit #01 W88 Deposit #02
W88 Deposit methods available for Indians
You are reading this article means you have successfully completed the W88 India registration. All need to do now is quickly making a W88 deposit to begin your fun adventure at W88. Let me tell you the first time might seem a bit tricky but 2nd time will definitely be smooth and easier.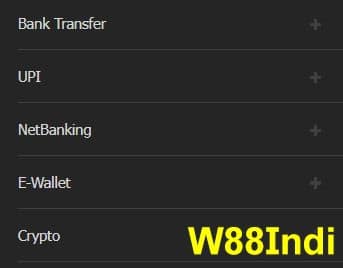 The W88 bookie allows players to fund their accounts in a variety of ways. The 5 most popular W88 payment methods are as follows:
Bank Transfer – Make a money transfer from your bank account to the W88 account directly.
UPI – This is the easiest method & time-effective way to deposit money into W88. Pay using popular UPI apps like Paytm, PhonePe & any other.
Net banking – Another popular payment option is Netbanking. Similar to a bank transfer, add money to your wallet with ease.
E-wallet – Available e-wallet at the W88 option is ecoPayz. Those with an ecoPayz account can choose this secure option & secured method to add money quickly.
Crypto – Safest method for those who have pretty good knowledge of crypto. Pick this at your convenience and transfer money to begin gambling.
---
3 Steps – How to make W88 deposit via UPI
If you wish to do a W88 deposit into a W88 account, W88indi recommends the handy & most convenient UPI method. Depositing money takes only 3 minutes. Just follow these 3 easy steps below!
Step 1: Log in to your W88 official account
The initial step of the W88 deposit procedure would be logging in to your W88 account.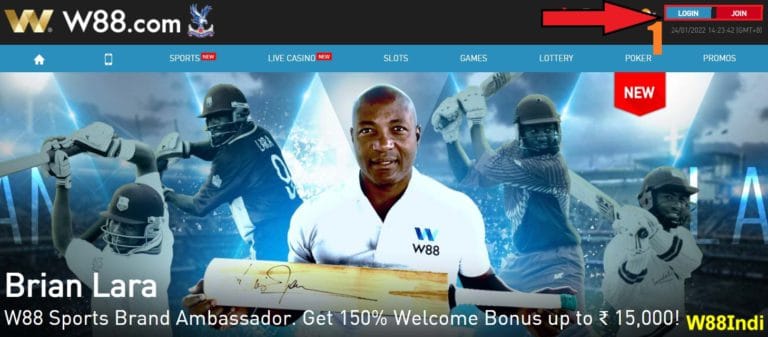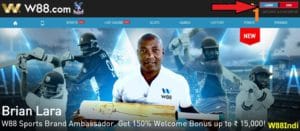 Newbies must create an account at W88 to play games for real money.
Don't have an account? Click on W88 Register to open a new one now and continue the steps below
Step 2: Click on Deposit & pick quickest UPI method
After successful logging, you will see a "Deposit" button on the top-right side of the interface. Just click on it.
Clicking the W88 Deposit button, you will be directed to the Funds Management – W88 Deposit page.

You will find all the available W88 deposit methods – bank transfer, UPI, E-wallet, Netbanking & crypto. Select UPI & fill-up the form to proceed.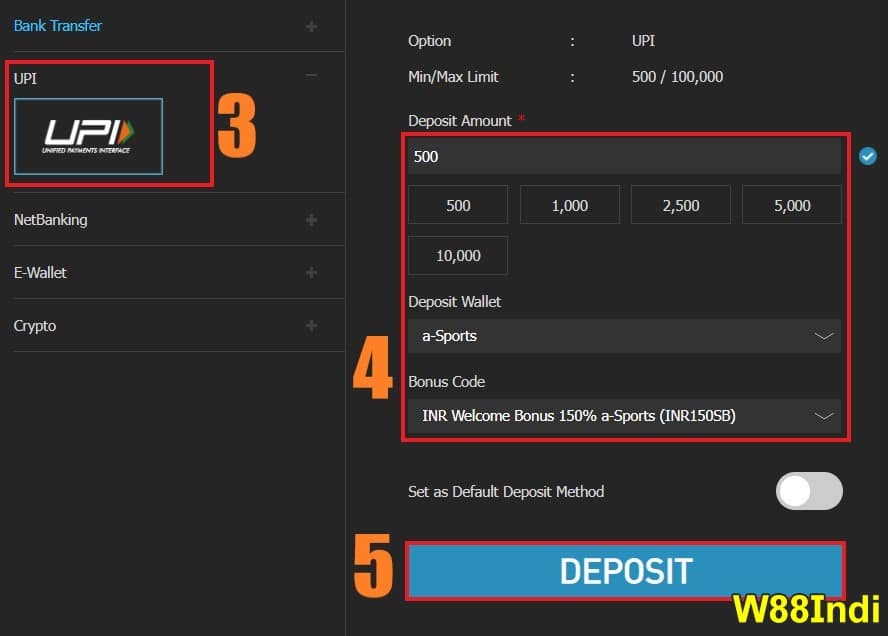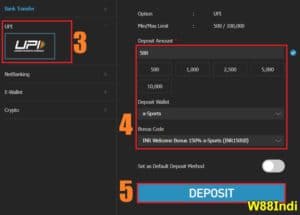 Deposit amount – Remember W88 minimal deposit amount is ₹500. Enter your desired amount in the range of ₹500 to ₹1,00,000.
Deposit wallet – Pick the wallet of your choice from the drop-down menu.
Bonus code – Select the appropriate bonus code to claim your 1st deposit bonus. Find W88 promotion details at the end of this article.
After filling up the form click on the DEPOSIT buttons below.
Step 3: Make a successful W88 deposit with min ₹500
You will be redirected to the new page with UPI transaction details.
You need to copy the UPI ID click on the Copy and Pay ₹500 button below.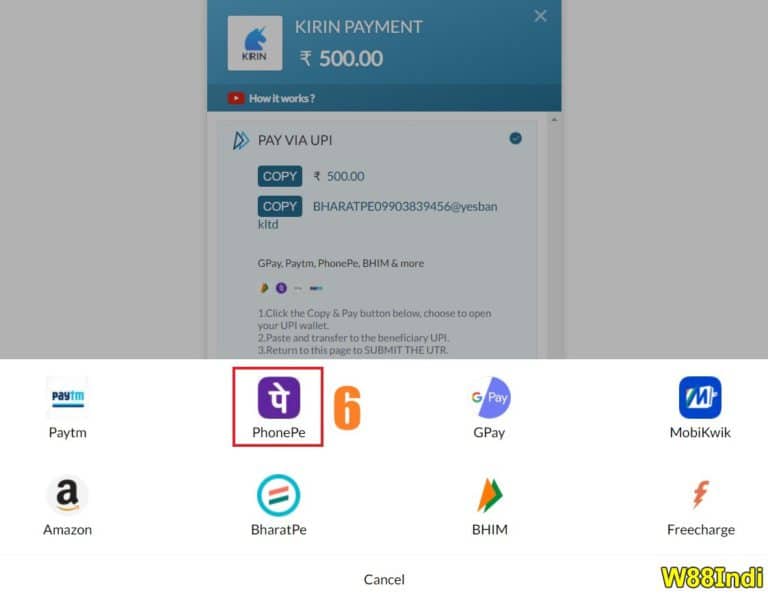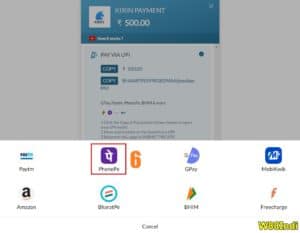 Select your preferred UPI app for making the transaction.
For example, click on the PhonePe UPI method.
Open your UPI app on your mobile and complete the payment.


After a successful transaction click on the Yes Submit UTR option to enter your UTR number.
Carefully enter your 12-digit UTR number and click on SUBMIT button.
That's all! You will get a success message. And within 2-3 minutes, your money will be deposited.
---
3 Benefits of using UPI methods for W88 deposit
Time-efficient – UPI is definitely a handy & time-friendly option for players to gamble on the go. Plus, its process is way quicker than bank transactions & you need not have to wait for the banking hours to do a transaction as well.
Simple & swift – W88 deposit processes via UPI are ensured to be simple and swift. There is no need to stand in a queue in the actual bank just to make sure that your billing is processed.
Safe & secured – Aside from being time-efficient, simple, smooth, and, quick, UPI is safe and secured too. You can transfer money linked to your bank account safely via your preferred UPI application.
---
2 best W88 promotions for new members – Get 150% bonus up to ₹15,000
W88 is continually thinking about the requirements of gamers & aims to deliver the best available services. W88 reflects this in the promotions it offers to players, especially newbies.
2 best promotions for the first 10Cric deposit with total bonus value up to ₹ 30,000


#1. Sports –  150% bonus up to ₹15,000
When new customers sign up, they may receive a 150% welcome bonus worth up to ₹15,000 in sports betting. Simply deposit a minimum of $500 into your sports wallet to take advantage of this offer.
#2. Live Casino – 150% bonus up to ₹12,000
Another enticing offer is a 150% welcome bonus on live casino games up to ₹12,000! Join W88 India and grab this exciting bonus now.
It's not over yet! After successfully completing account verification, you will receive a free credit of ₹250. To learn more about the latest deals & bonuses, go to W88 Promotions now. Claim these bonuses now!
5 mistakes to be avoided while making 1st W88 deposit
Making a W88 deposit is simple & straightforward, yet people make some silly mistakes and fall into crisis. The 5 most common errors we've observed are shown below; please read them now & avoid making them to deposit at W88 peacefully.
1. Choosing the wrong payment method – Newbies must also do some research before making their 1st deposit. Not only will selecting the appropriate payment save time, but it will also ensure a secure transaction.
2. Entering incorrect details – Entering a false name, bank details, personal details can also lead to problems while making transactions.
Make sure the W88 account name is the same as that of your bank account.
3. Not scanning properly – Some people opt UPI method for faster transactions via QR code. Scanning the incorrect QR code can put you in big danger. Always check if it's correct & then proceed.
4. Incorrect mobile number – This is one of the most typical errors made by both new and experienced gamers. Some people enter the wrong phone number & then panic as to why they are not getting notifications. To prevent getting into problems, double-check your phone number.
5. Entering incorrect amount – Lastly, you are the one who is going to pay money. Entering the correct amount is very important. Make a budget & then add money to make a hassle-free deposit. Also, make sure to enter a valid amount. Like for W88, the minimum amount must be between ₹500-₹1,00,000.
---
Conclusion
W88 deposit method is truly simple, straightforward, and swift, whether you use UPI, bank transfer, or any other. W88 minimal deposit is only ₹500. Isn't it a great start for beginners? Indeed! you will have a fantastic gambling time at W88 India. Join, deposit & begin gambling now!
---
Watch the W88 India tutorial video below on how to W88 deposit:
What are you waiting for? W88 Deposit with a W88 minimal deposit of at least ₹500 now!