Looking for the easiest dragon tiger game rules? We have the best & simplest dragon tiger games rules. Read now & begin betting at W88 India to win ₹3000 daily!
W88 Dragon Tiger W88 Free ₹250
Introduction to Dragon tiger game
W88 Dragon Tiger is a card game that is played using a conventional deck of cards, with 6 to 8 decks in a shoe. Players will not be playing against the dealer in this game. It's similar to Baccarat in that players select which hand(Dragon or Tiger) will be dealt the highest card.
4 Dragon tiger games rules for beginners
Newbies may go through the below Dragon tiger game rules to understand the basics. Do check out how to play w88 dragon tiger for more details.
Firstly players will wager real money on the Dragon or the Tiger before the cards are dealt.
After that, the player must wait for the live dealer to place the cards on the table, which will be shown face up.
There are no further actions available in the game.
The winner is whoever holds the highest card, and prizes are distributed respectively.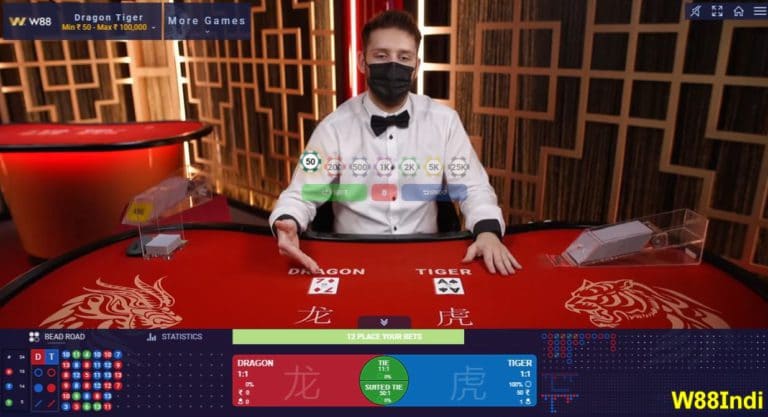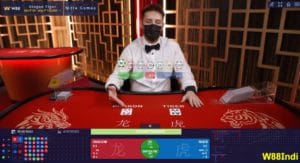 There are, however, 2 main points to keep in mind.
All aces are low cards.
If both dragon and tiger receive the same value card, the hand is a tie, and the house receives half of all wagers.
Aside from that, the game is simple and basic to play. When playing this live dealer game, players have restricted options and can bet on either the Dragon or the Tiger spit. There are also tie bets available, which wager on whether the two revealed cards will have the same value.
Dragon tiger payout table
If you're seeking the Dragon Tiger payout and RTP, you've come to the right place. We have all of the information right here, including the overall return for each of the key betting selections. The main Dragon Tiger payouts are detailed in the table below. Implement best dragon tiger tips to win more often.
| | | |
| --- | --- | --- |
| Bet Type | Payout | RTP |
| Dragon/Tiger | 1:1 | 96.27% |
| Tie | 11:1 | 82.17% |
| Side bets | 1:1 | 92.31% |
Dragon Tiger also offers Big and Small wagers, with players betting on whether the Dragon or Tiger spot will be Big, over 7, or Small, under 7. If either spot is a 7, this wager will lose. These are the major betting possibilities as well as a number of side bets available in various versions of the game:
| | |
| --- | --- |
| Other Side Bets | Payout |
| Big or Small | 1:1 |
| Odd or Even | 1:1 |
| Red or Black | 1:1 |
| 1 Red & 1 Black | 1:1 |
| Suit | 3:1 |
| 2 Red or 2 Black | 3:1 |
3 Mistakes to avoid while playing W88 dragon tiger
Dragon Tiger is one of the most widely played live casino card games with a large number of followers in India. It's all fun until real money is involved. People make errors and lose all of their winnings, as well as the initial investment. Below are the 3 silly mistakes to avoid at the Dragon tiger table.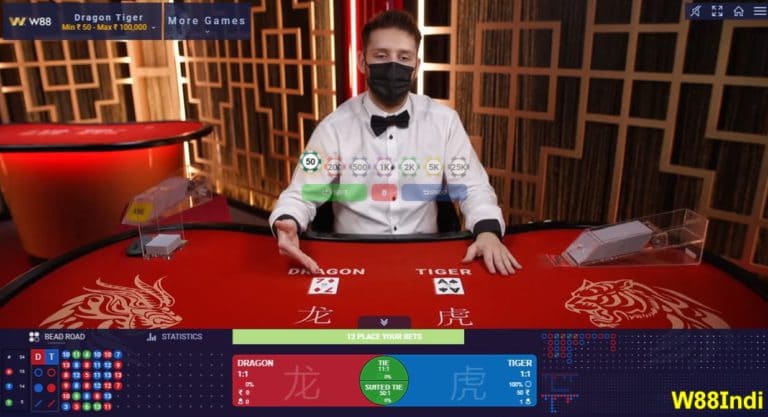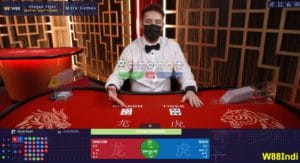 1. Not Managing Your Cash Flow – It's a lot of fun to wager on Dragon-Tiger; you win some and lose some.
However, you must keep the bankroll in mind at all times.
Players frequently make the mistake of neglecting their bankroll, only to find that they are out of money after losing everything.
2. Betting on a Draw – Many online casinos in Dragon Tiger payout 1:11 on Tie bets. A tie indicates that the same card appeared on both the Dragon and Tiger sides.
Sure, 1:11 looks appealing, and if it pays off, it'll be a great win.
The payment is so large, though, because it is not a plausible result.
People usually chase this Tie bet and lose a lot of money. So avoid betting on tie!
Visit the best dragon tiger strategy & reveal some smart hacks to enhance your gameplay & win more.
3. Not trying free games – This is also a common blunder made by new players. Many online casinos allow you to practice your skills at a demo table.
Before moving on to the real game, you can play a demo table where you can play the same game without risking any money.
This has numerous advantages. You get a sense of what it's like to gamble and win, as well as the general pace or speed at which the game is played, all without having to spend a single real penny.
Conclusion
Anyone can play Dragon Tiger after reading the dragon tiger game rules since it is an entertaining game. Players who enjoy games like Baccarat and Casino War will particularly enjoy it. Another reason to play this game is that you can win a lot of money while also having a low possibility of losing all of your money. The rules are simple to understand, and the gameplay is straightforward. Enjoy betting at W88!
---
Don't forget to check out the best W88 Online Casino Games!! Begin your gambling journey now!