Are you crazy about fishing games? Well, fishing W88 is the best game. Win free ₹250 & learn to play W88 crazy fishing. Let's dive into the fishing world!
What is crazy fishing W88 game?
Crazy Fishing W88 India is a simple arcade game to pick up and play. This unique game will take you deep into the world of fishing. To understand more about the Crazy Fishing game, all you have to do is read this article till the end to understand the basic gameplay & its rules.


The goal of the game is to use your blaster to fire down fish and other objects on the screen. You'll earn gold coins and come across mysterious symbols as you progress.
7 Special characteristics of crazy fishing W88 game
You'll encounter rare features that can reward you with more points as you swim deep with other water species in the magnificent blue sea. The 7 distinct features of the crazy fishing W88 game that you must be aware of are listed below. Continue fishing to collect fantastic rewards.
Symbol

Description

The whole group of fish
This type of fish is almost always found in several groups! Blast anyone while also catching other fish!
Surprise win
Blow this mark, and all the fish of the same species marked on the screen will be captured at the same time!
Full-screen bomb
If you catch this type of fish, you may be able to get a large amount of gold, as the name implies.
Energy Canon
You have a chance to turn into an energy cannon if you hit a fish. Bullets fired by the energy canon can earn double gold coins over the duration!
Copper shell
Copper shells can be caught for a chance to win gold coins, lock on, and freeze. Using a more powerful weapon will get you a larger prize.
Silver Shell
Silver shells can be caught for a chance to win gold coins, lock on, and freeze. Using a more powerful weapon will get you a larger prize.
Gold Shell
If you catch a gold shell, you'll get a gold coin, lock on, and freeze. Using a more powerful weapon will get you a larger prize.
3 steps on how to play crazy fishing W88
With easy targets to hit, this unique shoot fishing W88 game can help you relax for a while. It's a game with a colorful, appealing design, a user-friendly interface, and a realistic experience. Simply follow the 3 instructions below to enjoy crazy fishing W88 in no time!
Step 1: Log in to the official W88 website


Players must use their W88 credentials to access the W88 website.
You can set up a new account at the W88 Register if you haven't already done so.
Step 2: Find the Crazy Fishing game in the games section


To play Crazy Fishing W88, go to the Game section of the menu bar.
Crazy Fishing Game may be found on the first line of W88 in the games category.
To begin fishing, simply click on it.
Step 3: Begin the Crazy Fishing W88 game
Crazy Fishing W88 is one of the most enjoyable games available. To begin the action and stay in the game, shoot as many fish as you can.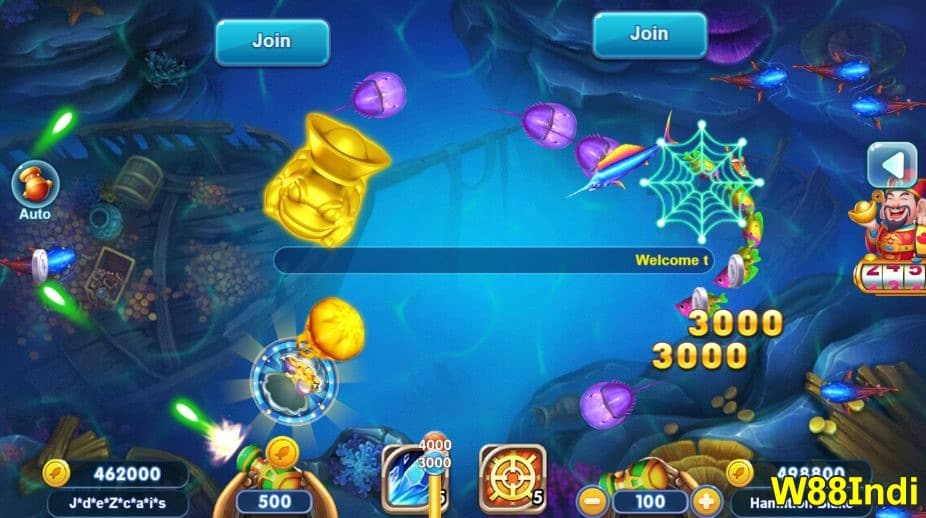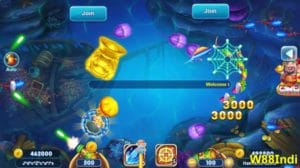 Consider yourself a commercial fisherman who wants to catch a huge number of fish to sell for a profit.
Similarly, the Crazy Fishing W88 game operates in the same way: you catch fish and earn money!
Fishing is your main source of earnings, and the bigger the fish you catch, the more money you earn.
Only catching the required amount of fish will allow you to progress to the next level. Make sure you hit the targets on the first attempt.
Remember that you can play the game's demo version by pressing the "Try Now" button to obtain a better insight into the gameplay and a better result.
W88 Promotions – Crazy Free bets worth ₹250
W88 offers new promotions to its loyal consumers regularly. Before you begin your crazy fishing W88 game for real money, take a sneak peek into the crazy free bets offered by W88.


Newly registered members can get a chance to win free bets worth ₹250 on sign up. Kickstart your fishing adventure by claiming these enticing offers. You must visit W88 Promotions if you want to play amazing games and take advantage of fantastic deals.
Conclusion
What better game can find to bag easy income? Crazy fishing W88 games are not only interactive and responsive, but also provide high-value odds, interesting bonuses, and large stakes. Wouldn't it be amazing to enjoy shooting and make a lot of money at the same time? Beginners must definitely give this game a shot & shoot as many fishes as possible. Play the crazy fishing W88 game right now & have a blast!
---
Don't forget to check out the best W88 Online Casino Games!! Begin your gambling journey now!