Wanna learn How to Play Blackjack Online for Real Money in 3 steps using an easy W88indi tutorial? Know the basic Rules & Play to win up to ₹9,000 at W88 India!
W88 Online Casino  Live Blackjack Tutorial  W88 Bonus ₹12,000
Playing casino games online is something that is always fun to do, but as a beginner if you want to play like a pro, then you must move on to play some pro online casino games and there is nothing better than playing W88 blackjack online to up your gambling skills like a pro in no time. So, to help you with this, W88indi has put together an easy tutorial on how to play blackjack online for real money and win wholesome payouts!
Blackjack Online Game Rules to Know
Before we get to the easy tutorial on how you can play blackjack online for real money, let us look into the basic yet important online game rules for blackjack. Playing the blackjack game is very simple and to transition from a beginner to a pro gambler, Blackjack is definitely the game you should learn to master first!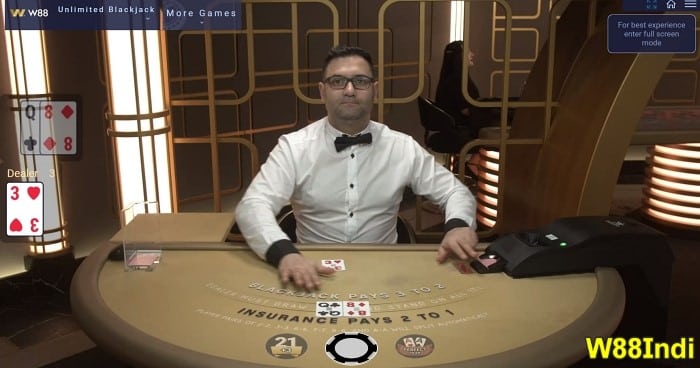 The blackjack casino game is played with a standard 52 deck of cards, however, in some casinos there are multiple decks added to avoid card counting techniques, the most effective blackjack gambling trick you will learn further down the article.
Another thing that you must note is that the blackjack game is played against the dealer, which makes the game more fun as you learn how to win blackjack and beat the dealer.
So, the basic rule of blackjack is to beat the dealer's hand by getting the card ranks to sum up to the number 21 or a number closer to 21.
This can be achieved via betting rounds where you can get additional cards, stick to the hand dealt to you, or double up your betting stake.
Lastly, depending on the hand, the Ace cards can either have a rank of the number 1 or the number 11.
5 Important Blackjack Terms Simplified
So, with the above segment, you have learnt the basic things about playing blackjack online for real money however, there are still more blackjack terms that you need to know about. But don't worry, by the end of this article we guarantee that you will have grasped all the basic things about playing blackjack online, so here are some basic blackjack terms you should know.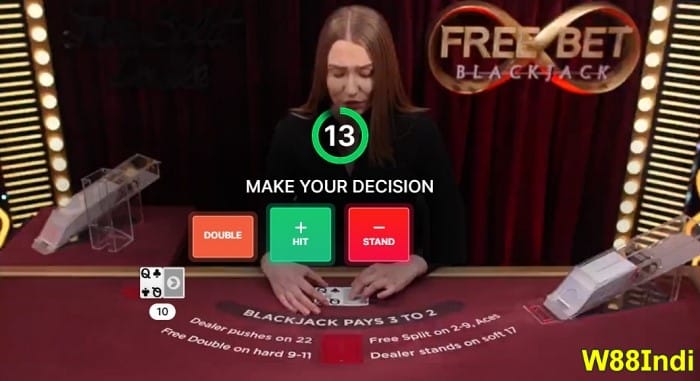 Blackjack: Blackjack refers to when the ranks of the cards dealt to either the player or the dealer sums up to the number 21.
Stand: Stand refers to when the player decides to stick to the hand dealt to them for the next sub betting round. This option must be used when you are satisfied with the hand dealt to you or when you think that adding another card could be risky.
Hit: Hit is somewhat the opposite of stand, so, when you hit you wish to receive another card that can help you get your overall cards to sum up to the number 21 or a number closer to 21.
Bust: Bust option refers to when the cards in your hand sum up to any number more than 21, this means any number from 22 upwards. When your card hand is a bust, then you immediately lose the betting round.
Push: Since the dealer and player are playing against each other, there is a possibility that in a betting round, both ends get the same result, which means a tie between the player and the dealer. This is when the betting round is pushed and the player gets back half the betting stake.
Use 3 Steps to Play Blackjack Online for Real Money
We hope that the above explanation of the basics of playing blackjack online is something helpful to you because it is important that you read them thoroughly and even go on to memorize them. With that, you will now be introduced to an easy blackjack tutorial online, and for it, we will be using W88 as an example.
Step 1:

Log into W88 and Enter the Live Casino Domain
First, you must visit the W88's official website and create an account in the W88 register by clicking on 'Join'. This will take you to the W88 registration form which you should fill precisely.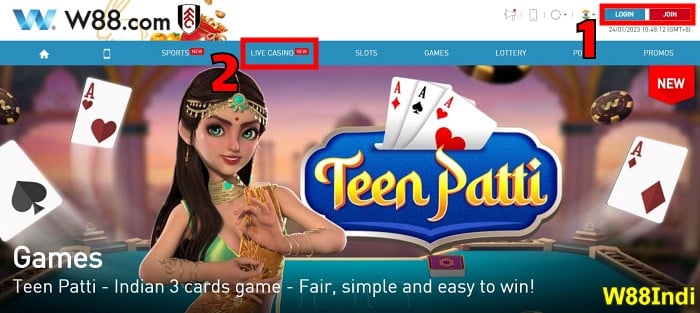 Then you must use the newly created login credentials to complete the sign up process by clicking on 'Login'. This should successfully take you to the W88 homepage.
On the W88 homepage, in the ribbon menu above, you will find 'Live Casino' which you should click on to enter the W88 live casino domain.
Step 2:

Filter and Select a W88 Blackjack Game Room
Now that you have entered the W88 online casino domain, you will see all the amazing games you can access and play along with many game room providers who are considered to be the best in the gambling world online.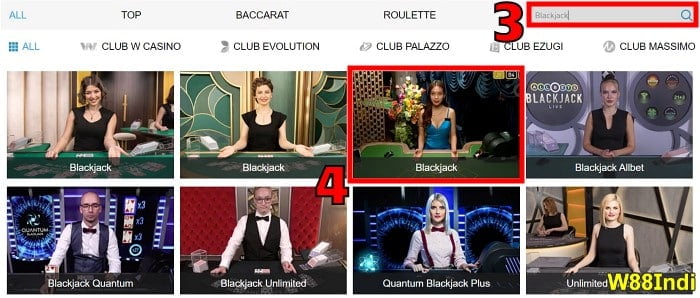 So, because there are many game rooms provided by W88 and their game room providers for different classic casino games, you will have to filter out your options to find a blackjack game room.
You can do this by using the search bar to find a blackjack game room, once you have found a game room click on it to join the table. Here, we have decided to go ahead with a game room by Club W Casino.
Step 3:

  Place Your Bets to Play Against the Dealer
Now that you have entered the W88 live dealer game room for blackjack, you will find many things in the game room namely a live dealer, a blackjack table, casino chips, and blackjack stats table. You can use some blackjack tips from the pros to place accurate bets in the game rooms.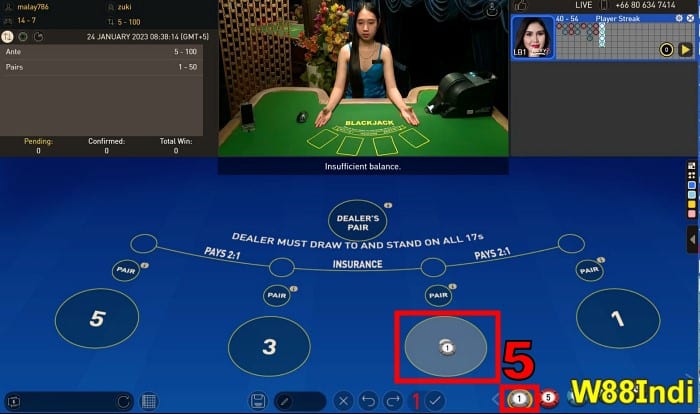 So, to place bets, you must select the minimum betting stake from the available chips and click on any of the tables to place a bet.
This must be done before the timer ends, and once the timer ends, the live dealer will began dealing cards and commence with the blackjack gameplay.
Play Blackjack Online for Real-Money Blackjack at W88
To understand the last bits of step 3 better, here is an example of the blackjack online gameplay at W88. Using this tutorial should give you an idea of how the game is played out on the table. This segment is divided into 2 rounds, so pay close attention to how you can win the blackjack game online using some basic blackjack strategies to win.
ROUND 1: Place bets on any one table in the blackjack game room
As mentioned above, the first thing that you should do to place bets online at W88 blackjack game rooms, is place a bet on any one of the table. If you selected a game room with one table, then you must place bets at the center of the table.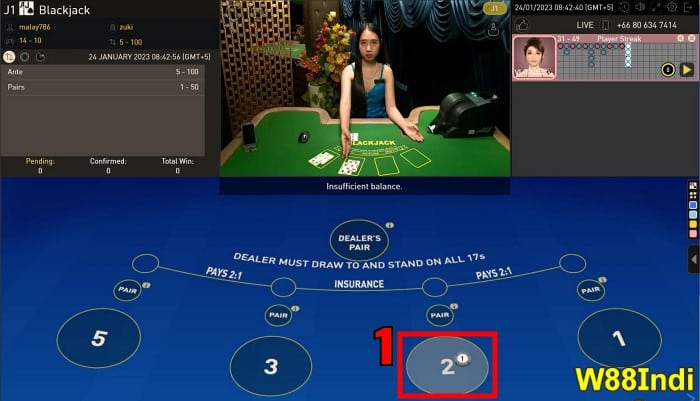 Here, we have decided to place a chip on table no. 2. This means that the cards dealt on this table will be the cards in our hand.
Since W88's live game room for blackjack has multiple tables, you will see other players playing the game as well.
ROUND 2: Based on the first two cards, you must decide to stand or hit
Once the timer ends, the dealer will deal one card on the table you placed a bet on. This will be the same for the other tables if there are other players playing the game.
After the first card is dealt, you will be given another card in your hand, together, this will complete the first betting round after which you will be given the chance to hit, stand, or double up.
Here, we have been given the hand J♦ and 9♣ which sums up to 19, a hand which is closer to 21. This also means that if we go for another card, then it'll be risky so we decided to stand with the hand dealt to us.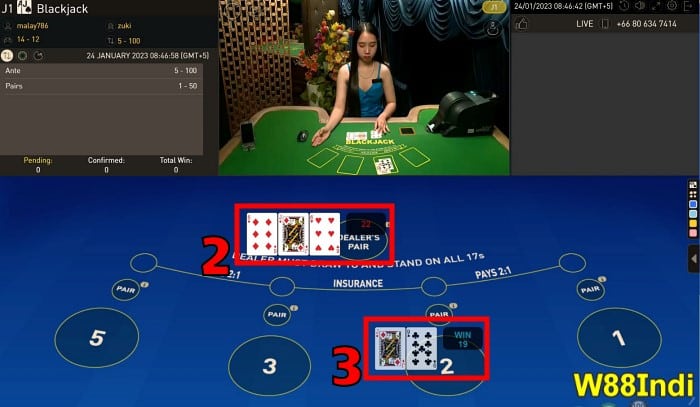 Once done, the dealer will begin dealing cards for themselves, here, the dealer go the cards 6♦ and J♦ which makes 16, so they decided to go for another card which is 6♥, making their overall count 22, and thus their hand a bust.
Since, their cards summed up to 22 and ours to 19, we won the betting round with ease!
3 Blackjack tricks to increase your winning rate
If you too want to win easily and earn more as we did above then it is important that you pay attention to these 3 blackjack tricks that will help you increase your winning rate as a beginner in not time. These tricks help you not only earn but also save up the money in your wallet!
Make Use of Casino Bonus: The first trick for blackjack you should know is to apply for the casino bonuses available and make use of it. For instance, at W88 you can get a W88 promotion bonus of up to ₹12,000 on live casino products. This means that if you apply for such casino bonuses, then you won't have to spend a lot from your own pockets.
Bet with minimum betting stake: Next, it is important that as a beginner you should use the minimum betting rate available in your casino game room online to place bets. This is important because using the minimum betting rate to place stakes would give you the chance of not only playing more blackjack rounds but also double up the cash without using too much of your bank roll.
Learn Card Counting technique: Above we have mentioned that some online casinos take precautions by using more than one deck in blackjack game rooms and that is because of this effective blackjack card counting technique. Here, you must assign certain values to the cards and keep counting the cards by observing the game rounds. This takes a lot of practice but once you master this technique, you will be able to predict which card will be pulled out next!
Conclusion
This was all about how to play blackjack online for real money at W88, one of Asia's top online gambling sites. It is important that you go through the rules and terms thoroughly every time you decide to play blackjack online and also use the 3 betting tips to earn more. Speaking of earning more, you can join W88 and claim the W88 promotion for new account on online casino products which gives you up to ₹12,000. Lastly, playing casino games online is fun but it gets even more entertaining when you gamble responsibly online so be sure to game responsibly!