Blind play, slideshow & many more. Explore the best 9 tips on How to win 3 Patti every time! Put on your best poker face & earn ₹3,000 every day at W88 India!
W88 3 Patti W88 Free Bet ₹250 Teen Patti
3 Patti, known as Teen Patti, Flush, or Flash, is an Indian origin card game. It is one of India's most popular card games that are similar to the British 3-Card Brag, and many people believe Teen Patti was inspired by it.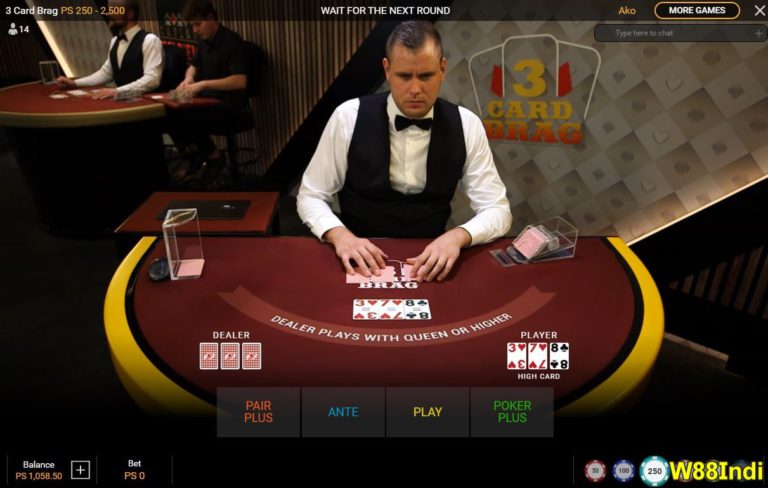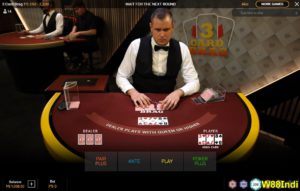 At W88, 3 Patti is played with 3 to 6 players using a 52-card deck (no joker cards). 3 cards are handed to each participant. The goal is to have a better hand than everyone else. If you hold a better hand or if everyone else (except you) folds their cards, you win.
9 Effective tips on How win 3 Patti every time
When you win in 3 Patti, the game becomes more interesting. And to win, though, you'll need a mix of chance & skill. You may increase your abilities and your chances of winning by employing a few simple tactics. Here are the best 9 tips on How win 3 Patti every time.
#1. Master the basics of 3 Patti
3 Patti isn't going to be difficult, especially if you've played card games before. You only need to understand how the game works and what are betting choices available.
Before you dig into how to win 3 Patti every time, be sure you understand the rules by reading how to play W88 3 Patti article.
It will allow you to properly play the game & also understand what moves to make at any given time during the game.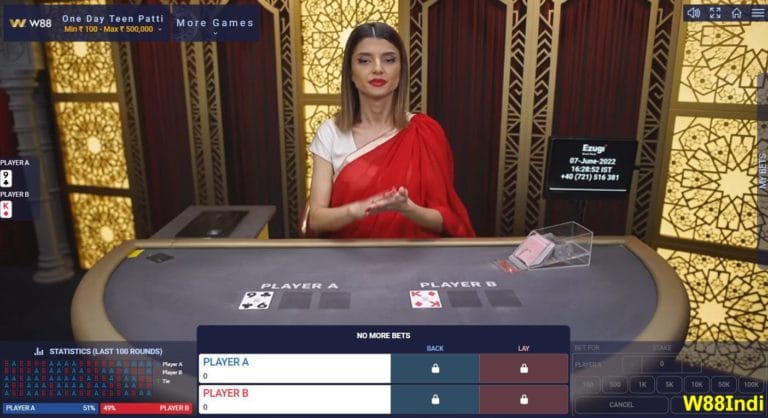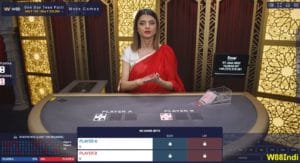 #2. Try blind play
Play blind as much as you can. It's possible that playing blind in the first few rounds will confuse some of your opponents. They won't be able to judge the power of your cards solely on your body language.
This may cause your opponents to fold more quickly.
Another benefit of playing blind, you may put in smaller bets & lose less.
#3. Fold/ Bluff during bad hand
Bluffing with weak hands might fool players into thinking you have a strong hand & cause them to fold.
Because no one can see your body language when gambling online, you may bluff with your betting talents.
If you don't believe bluffing will succeed, you can fold to save more losses. Check out more such money-making tips and tricks & earn huge cash rewards with ease.


#4. Small bets boost opponents to fold
Remember that 3 Patti is a long game. In a single session, you get to play a lot of hands. Starting with little wagers lowers your chances of running out of money soon.
It will also increase your chances of winning. Begin by placing little bets, then after a few rounds of betting, place one large wager.
Other players will believe you now have a superior hand if you do this. It will cause their powerful hands to fold.
#5. Take advantage of the slideshow
If you have any doubts about your cards, you can request a sideshow from a previous player. Between you 2, whoever has a better hand will win.
This may assist you in deciding whether or not to continue playing the game.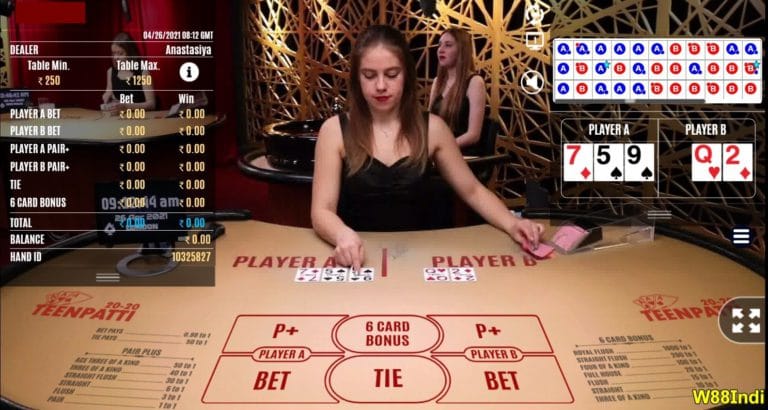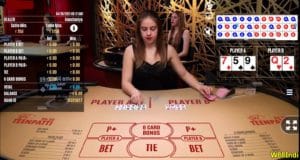 #6. Poker face to confuse the rest
A poker face is merely a blank expression used to conceal your true sentiments. Other gamers won't be able to read you if you do this.
This might assist you in perplexing other players.
You can't do this if you're playing Teen Patti online since no one can see your face.
#7. Keep patience when you have a good hand
Players with weak cards may fold promptly if you put a large wager. However, start with a few modest bets so that you have ample time to build up the money in the pot.
You would walk away with a large sum if the players fold when the pot has gotten large enough.
#8. Never try to recover your losses
Set a limit on how much money you will play with before you begin the live casino game. Don't risk more money than you're willing to lose or willing to give up.
Don't gamble with money that you need for personal things. It is always best to pack and try again if you are unsure about your hands.
You will only lose a small amount of money this way.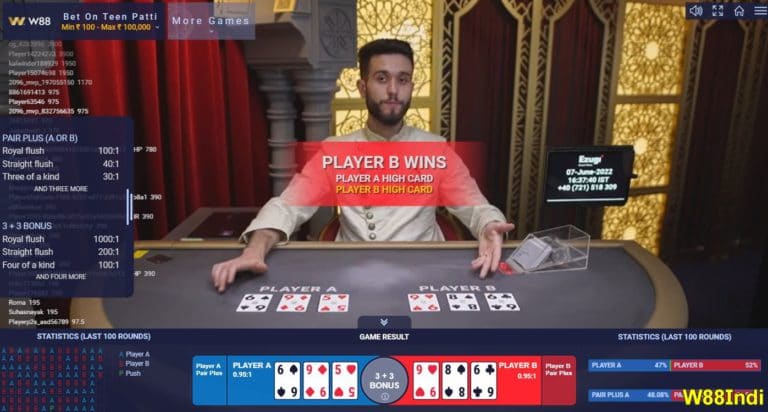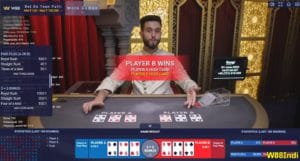 #9. Watch your opponent's moves
You must be attentive to recognize opportunities when they arise. You should take advantage of a situation when a large number of players are folding their hands.
You can fold if you don't have a strong hand.
Examine your opponent's playing style by their decisions & make a decision based on what you have in your hand.
Conclusion
We've covered some of the top tips on How to win 3 Patti every time. It is a pleasant game that should be played with prudence & enjoyment. Even if it can help you gain a lot of money, it should not be your major motivation for playing, since this can lead to tension & trouble. No one can become an expert overnight, so allow yourself time and keep trying various strategies until you find one that works well for you!
---
You may be interested:
W88 India, an amazing online casino website and international football sponsor, gives away a 150% welcome bonus up to ₹15,000 on signup under sportsbook for those who want to try sports betting for the first time! Simply W88 apply for a membership to get this welcome bonus!