How to play Lotto online, best variant of Lottery in India! Play at W88 with a minimum bet of ₹2 & earn more with 3 Bonus tips. Join W88 & get ₹250 Free Credit.
W88 Bonus ₹250  Lotto Online  W88 Lotto Slot
Betting and gambling have been around for a really long time, and still, continue to thrive because it is fun. However, Lottery betting is the most fun. This is because the uncertainty and testing one's luck is always a thrilling experience for many. Luckily in today's time, you can make Lottery bets online. To learn how to make lotto bets online read this article thoroughly as we will be using one of Asia's best online betting sites, W88 to learn.
The basics of Lotto online at W88
Before we get to learn how to play lotto online, let us first dive deeper into the basics of Lotto at W88. At first glance, the interface may seem too much for beginners, however, once you learn how to navigate the Lotto site, you will find it easier to play online.
In fact, online lotto is much more fun than playing offline lotto. This is because in offline lotto you must bet on any 6 numbers between 1 to 49. However, when it comes to playing lotto online, you will have to make bets on 1, 2, 3, 4, or 5 numbers ranging from 0 to 9 which makes it easier to play and learn as a beginner.
Betting Options in Lotto online
Since we spoke about betting options above, it is also important to understand all the different betting options available at W88 Lotto. This is because understanding them would help you create a strong lotto strategy. In W88 Lotto, there are 9 betting options that you can choose from, they are:
Four Digit Bets: Here, you must select 4 different digits between numbers 0-9 separately.
Last Three Bets: Here, you must select 1 or more numbers from all the 3 options ranging from 0-9 each. This is to determine the first, second, and third digits in the 5-numbered sequence.
Mid Three Bets: Again, you must select 1 or more numbers from all the 3 options ranging from 0-9 each. This is where you bet on the second, third, and fourth digits from the 5 numbers sequence.
First Three Bets: Here, you must select 1 or more digits between 0-9 from the 3 available options, the third, fourth and fifth digits in the 5 numbered sequence.
Last Two Bets: Here, you must bet on one number for the first and second digits in the 5-digit sequence.
First Two Bets: Here, you make bets on the fourth and fifth digits from the 5-digit sequence.
One Digit Bets: Here, bets must be made on 1 number from all 5 sequences.
Non-Position Bets: Here, 1 number must be bet on from between 0-9.
BSOE Bets: These are famous side bets in online Lotto. It stands for Big, Small, Odd, or Even. Here, you make bets on the 4th and 5th digits in the sequence.
Learn how to play lotto online in 2 easy steps
Keeping all the betting options in mind, let us now get to the main part of the article, which is how to play online lotto using W88. These steps must be followed thoroughly and must not be skipped in order for you to play Lotto online without any interruptions at the W88 Lotto slot.
Step 1:

Join W88 and Visit the Lottery Slot
The first step is an obvious one which is to create an account in the W88 register so that you can have a permanent account locked in their database. To do this, click on "Join" on the W88 homepage.
This account should have a unique username and strong password for security purposes as W88 is strict with its security protocol.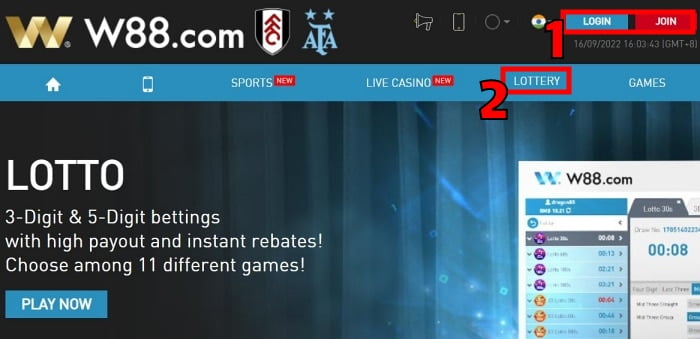 Besides this, it is important to verify your account details and then enter a deposit. This is because when you verify your details, you don't only secure your account but also get a freebet offer of ₹250 upon W88 verification. This will allow you to play more games at W88.
Once done, you should visit the Lottery Slot at W88 and follow the further steps.
Step 2:

Click on "Lotto" and Select a Gameroom
Once you have entered the Lottery domain at W88, you will find 3 sub-domains where you can play Lottery betting – Lotto, Keno, and W Keno.
You should then click on "Lotto" and visit the new tab that just opened on your browser.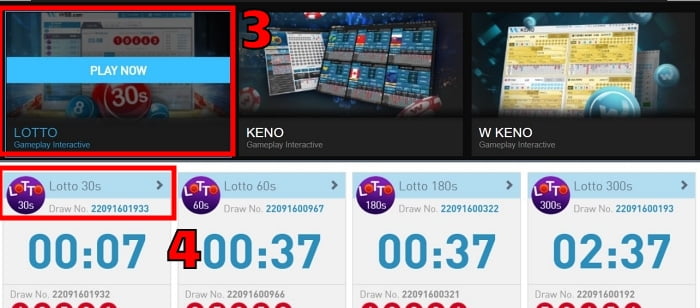 As you will see, at first glance figuring the interface out might be confusing, but as you use this site, you will find that this interface at W88 is much easier than other available sites.
You must then click on any one of the above game rooms, in this case, we have clicked the "Lotto 30s" room.
Step 3:

Make your Bet on W88 Lotto
Once you have selected the game room, you must select the betting option available in a ribbon format, in this case, we have selected to bet on "First Three".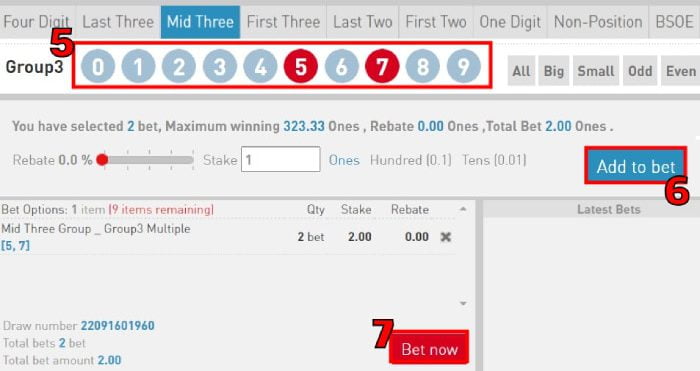 As you can see, below the 3 sequences of numbers, we also have the side bet – all, big, small, odd, even, clear.
Now, all you have to do is select your lucky digits and click on "Add to bet".
Once the payout is calculated along with the total amount, you can click on "Bet Now".
Real Money W88 Lotto Online Gameplay
Let's take a quick glance at how the Lotto gameplay works at W88.
ROUND 1: Select and Place your Lotto bets
In round 1, we start with making a bet.
For this, you must select a betting option from the ribbon, as shown in the picture below.
Then you must move on to make the bet by adding the bet and selecting "Bet Now".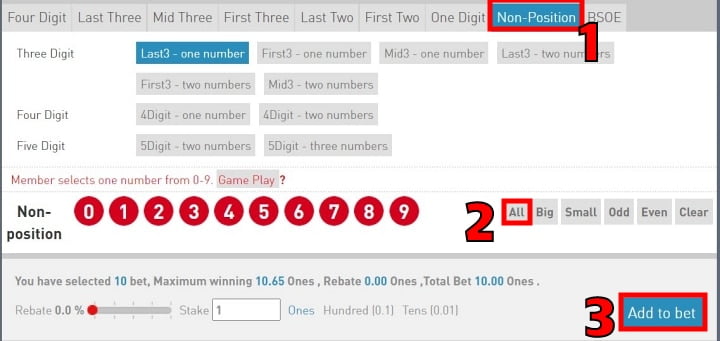 In this case, we have selected the "Non-Position" betting option, and have decided to add the "All" bet. This means that we bet all the numbers.
You can also see that we have selected a combination bet of "Last 3 and One Number"
ROUND 2: Wait for the timer to end and the results
In round 2, we must wait for the results as the timer ends.
Here, the latest results are the numbers 8, 0, 3, 3, 3.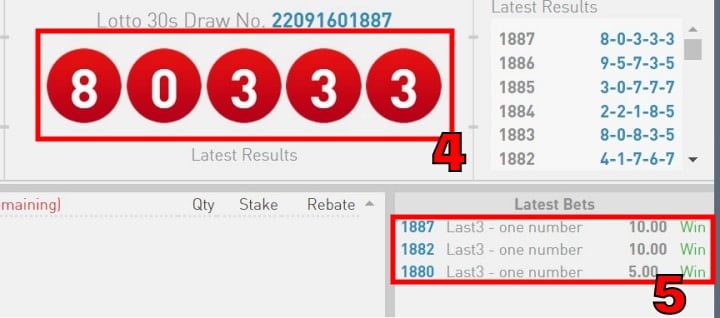 Since we bet on all, we easily won the bet.
As you can see, we have played 3 rounds before and have also managed to win those bets. Thus, playing Lotto at W88 has many benefits and would help you win easily.
3 Major Lotto Online Bonus Tips to Remember:
Now that you have learnt how to play Lotto online, you can go ahead and give it a try. But before that, here are 3 important bonus lotto tips to remember before playing lotto online at W88.
Try all the Lotto rooms: The first thing that you must remember is to check out all the Lotto rooms available at W88. Although they appear the same, try making bets on all of them one by one until you find a room that is the most suitable and comfortable to you.
Apply for free promotions: W88 is a place that has amazing bonus promotions that can help you boost your gambling career. So, be sure to grab any available promotions that would give you extra cashback offers.
Reply on your luck: In the end, Lotto is all about luck, whether online or offline. So, it is important to trust your instincts and if you have a lucky number, then be sure to trust that too.
Conclusion:
This was all about how to play Lotto online with the help of W88. With this, it is now your turn to give the game a try and experience the joy of winning purely by luck. Remember the betting options and be sure to place your bets wisely. Other than that, remember our 3 bonus lotto tips that could help you strategize your betting. Lastly, and most importantly, be sure you have fun while gambling responsibly.