Learn about the best Gameplay Interactive slots & win an ongoing tournament prize up to ₹1,75,000. Know more about the best high RTP slots & more. Play Now!
W88 GPI Slots Gameplay Interactive Slots W88 Slot Games
Hello, Gamers! Wanna learn about the most exciting Gameplay Interactive Slots to bet and win more? Then, scroll this page and get complete information to start your adventurous slots journey!
How to Access Gameplay Interactive Slots – Win x15,000 Spins
Start betting on the Top Gameplay interactive slots by following the simple steps below:
Step 1: Go to W88 Site and log in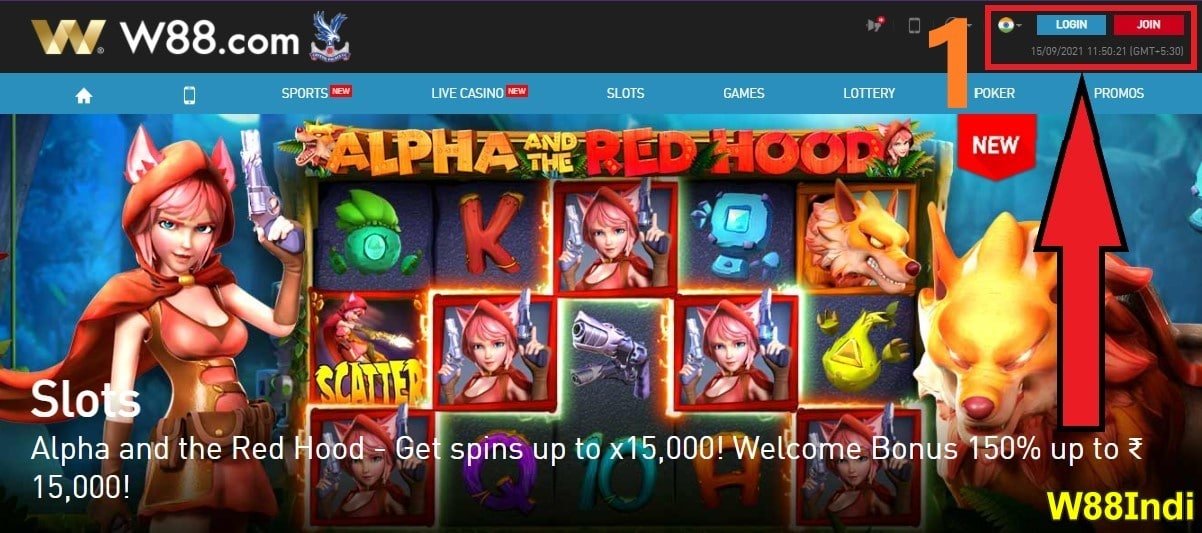 For starting your gameplay interactive slots journey, you need to first access the official W88 site and log in with your credentials.
Step 2: Locate the Slots tab and select Gameplay Interactive

Once you are logged in, you need to select the Slots tab on the menu bar.
Then, click on the Play Now option of the Gameplay Interactive slots.
W88 GPI Slots page will appear with Alpha and the Red Hood game at the top.
Click on the Try Now option to play the free trial mode of the game.
Step 3: Start betting on Alpha Red Hood to win x15,000 spins
Red Alpha Hood is the top trending slot game on W88 and following are the rules: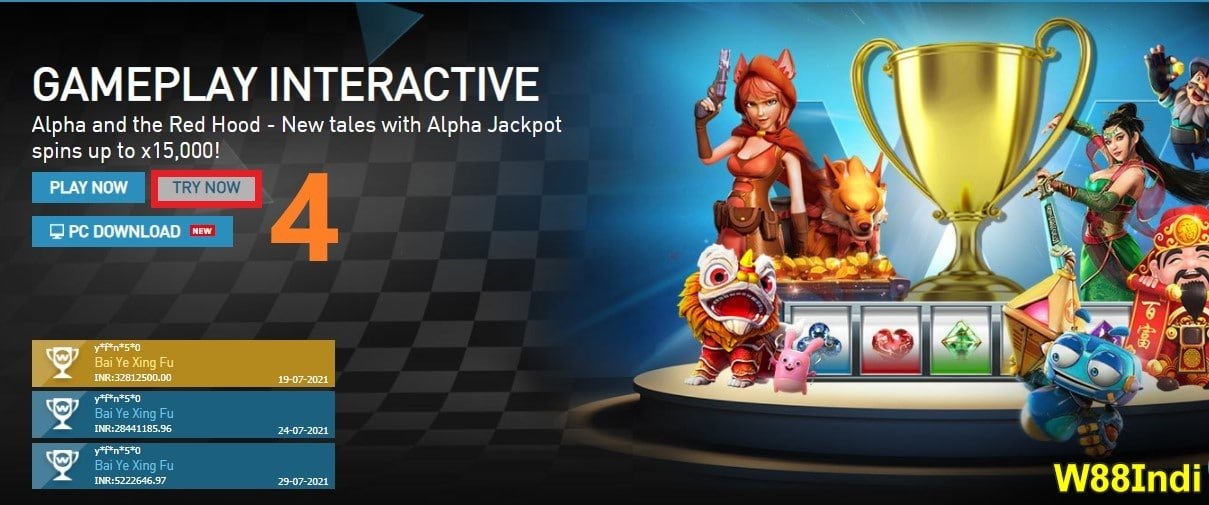 You need to choose the total bet amount to start the game.
Next, click on the spin button so that all the reels will start spinning and the result will be declared.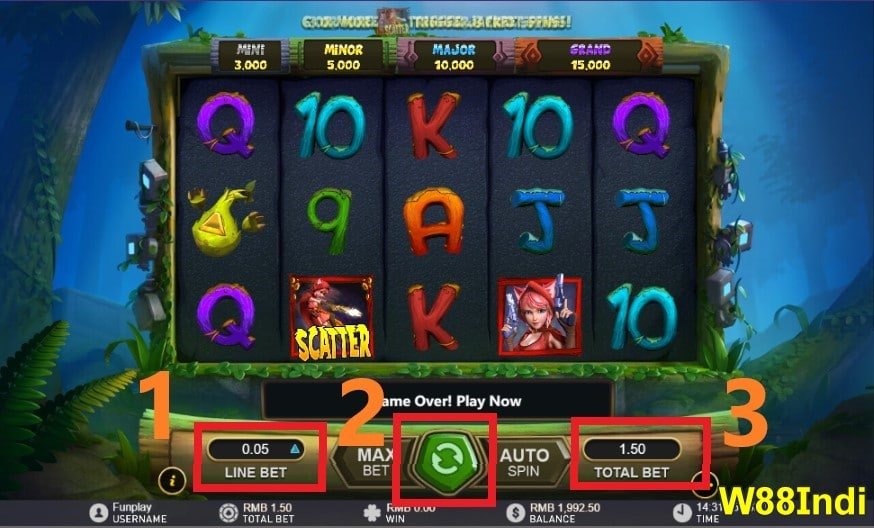 The payout of the reel combination will be declared according to the paytable.
It has 30 paylines to win with a minimum bet amount of ₹3.
Get more information on W88 slots and win more cash rewards!
Top 3 Gameplay Interactive Slots – RTP 97+
W88 is filled with top Gameplay Interactive Slots that also have high RTP and can also be played free. Amazed? Be more by knowing the 97+ RTP exciting slot games on W88.
1. Double Greatness – RTP 97.12%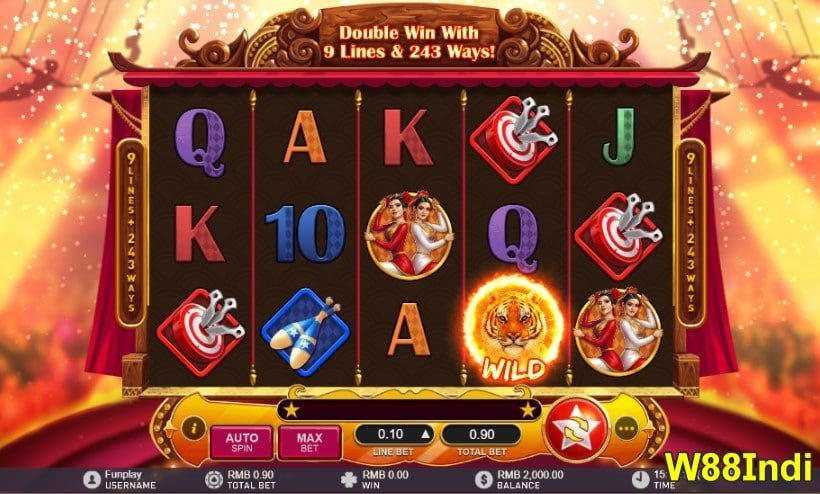 Double Greatness is the W88 GPI slot game with the highest RTP rate of 97.12%. This is a 3×5 reels slot game having 243 ways with 9 paylines for players. So, what are you thinking of? Try this exciting slot game now!!
Learn about the Top 4 online slot tips to earn more jackpots!
2. Leap of Fortune – RTP 97.11%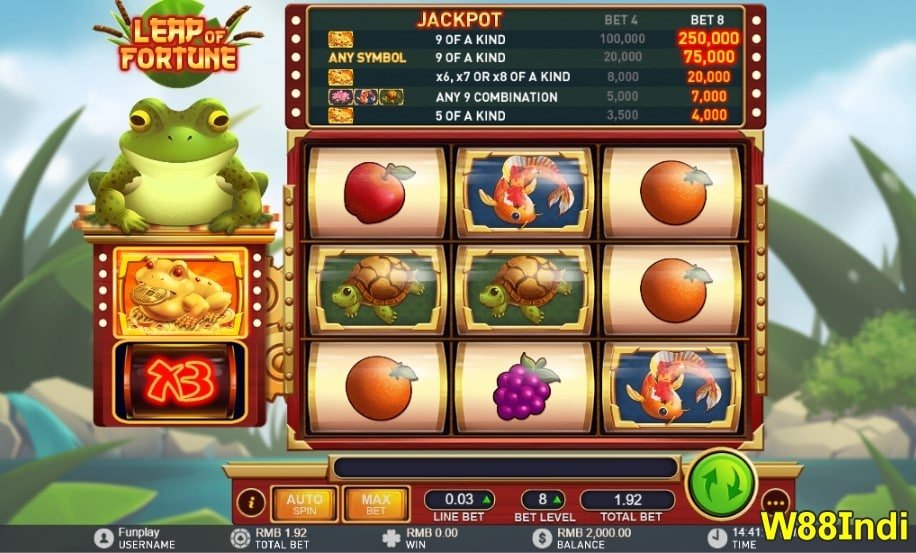 Leap of Fortune is the second-highest W88 GPI slot according to RTP. It is a 3×3 reels slot game with exciting music and 8 paylines for players to have fun while betting.
Know more on Top 4 Slots Game Online & try your betting game!
3. Alpha and the Red Hood – RTP 97.06%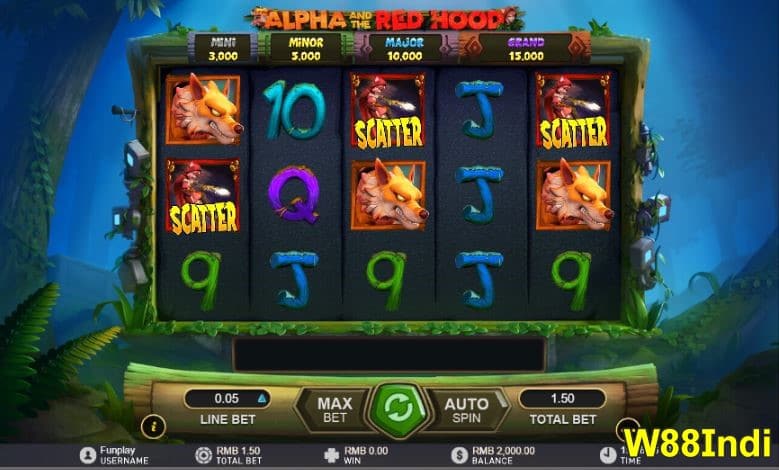 Alpha and the Red Hood is the top third-ranked W88 GPI slot game that has x15,000 spins to roll on. More than that It is a 3×5 reels slot game with 30 paylines! This means more winning chances! Amazing, right? So, try this new W88 GPI slot game today.
Join W88 now!! Win exciting bonus offers to bet on the super exciting casino and sports betting options!
Gameplay Interactive Slot Tournaments – Win up to ₹1,75,000
Gameplay Interactive Slots on W88 have announced a GPI Mid-Autumn Festival Campaign III ongoing slot tournament for players to play and win more. This exciting tournament has a pool prize of ₹1,75,000!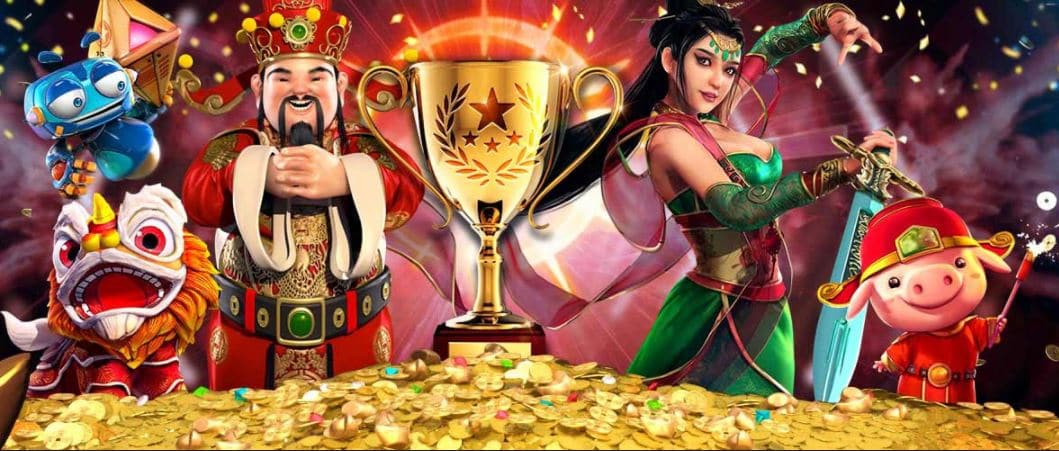 Players can enroll on this tournament by placing a minimum bet and it is applicable on Wuxia Princess: Mega Reels, Magic Paper, Nuwa and the Five Elements, Captain Rabbit, Lunar Legends slot games. So, turn your competitive spirit and play these exciting games to top the leaderboard and earn rewards up to ₹1,75,000!
W88 Promotional Offer on Slots
W88 Promotions are always a way to add a level up o your gaming spirit. With super enticing offers on the GPI and other Slot games, you can be at the top of the leaderboard. So, read ahead to know the best W88 bonus offer on Slot games.
W88 150% Welcome Bonus up to ₹15,000 on all Slots

W88 is offering a 150% Welcome Bonus up to ₹15,000 on all Slot games including Gameplay Interactive Slots. So, hurry and grab the offer to add it to your slots wallet. Play more and win more with this super exciting bonus offer and gear up your winning spirit. Claim now!
Know more about the Best W88 Promotions for new members. Get ₹300 free credit!
Conclusion
Got amazed by looking at the Gameplay Interactive Slots? The awesome slot games having high RTP and numerous paylines to win. Along with it, super enticing tournaments prizes and Welcome Bonus offers set a perfect mood to start gaming. Refer to the how to play W88 GPI Slots and start wagering today! Good luck!